Diseases of the liver are often devastatingly silent.
With the epidemic rise of diabetes and obesity in recent years, along with other contributing causes such as chronic viral hepatitis, liver diseases such as cirrhosis and NASH (nonalcoholic steatohepatitis, the pre-cursor to cirrhosis and liver cancer) are on a disturbing upward trend, affecting as many as 1 in 3 people in North America.
Usually, liver disease can only be detected by a physician with costly MRI once the physical shape of the liver begins to shrink. At this point, though, it is now lethal. Only a liver transplant can save the patient.
UBC spin-off company, Sonic Incytes, is poised to change that.
Backed by support from the Innovation UBC network, and leveraging a decade of research discoveries, the company's entrepreneurial drive and market expertise are bringing a new diagnostic and monitoring tool to the palm of the physician's hand.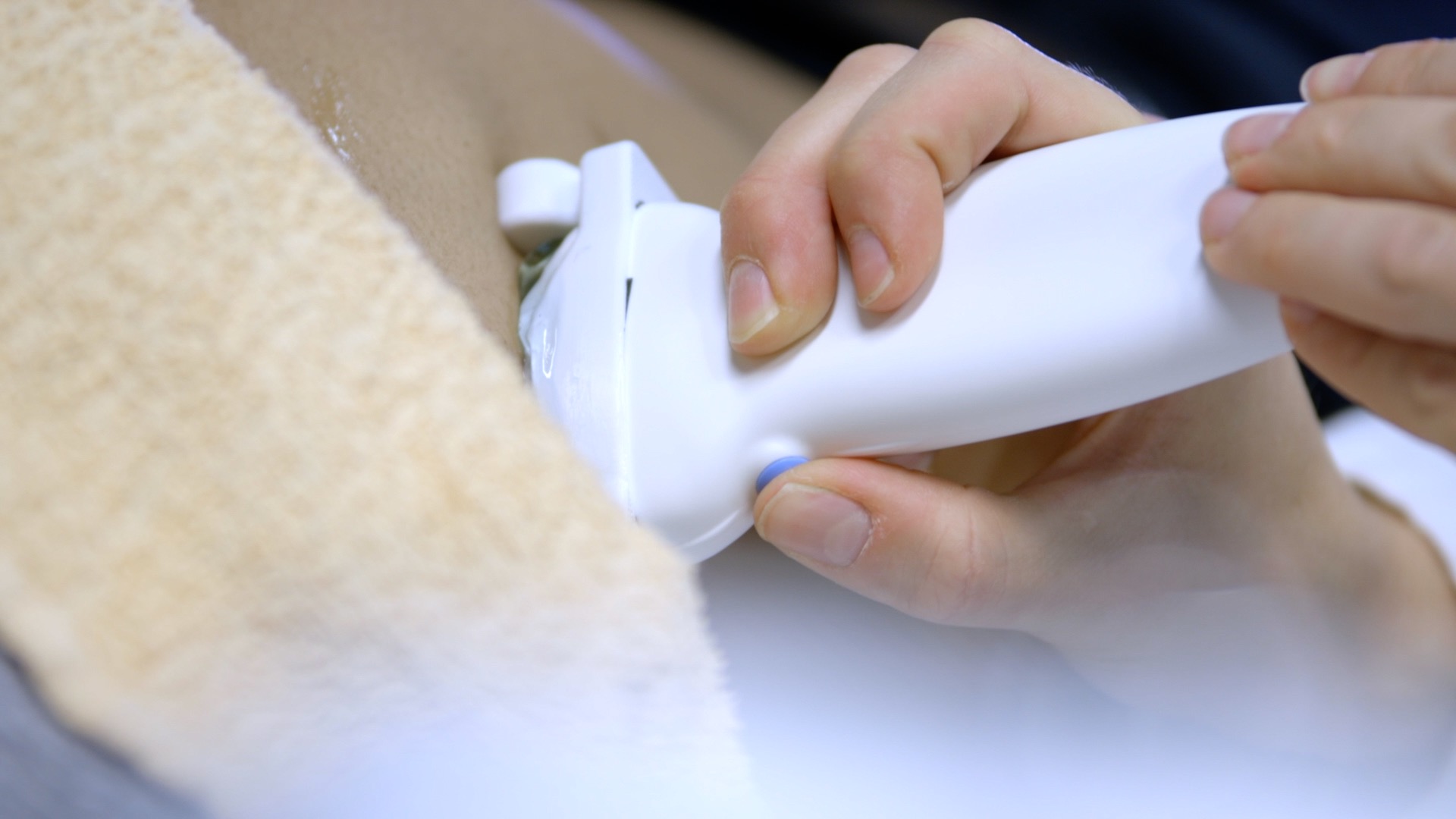 Their portable, entirely non-invasive tool provides a new way of detecting and quantifying the extent of early-onset disease, marked by a fatty liver, when patients are asymptomatic – long before it progresses to NASH or cirrhosis, the severe scarring of the liver in response to prolonged injury.
"The earlier liver disease is diagnosed, the more proactive the patient can become," says CTO and UBC Electrical and Computer Engineering Professor Tim Salcudean. "Through diet and exercise, they can actually reverse liver disease."

The device's next-generation technology is called S-WAVE, short for shear wave absolute viboelastography. Using sound waves, the device directly measures the elasticity of liver tissue in kiloPascals. The kiloPascal score of the tissue accurately determines how much damage in the form of fibrosis (scarring) has accumulated in the liver.
By bringing the device right to the patient, and by eliminating the need for biopsy or complex imaging diagnostics such MRI scanning, the time and cost of diagnosing the disease are drastically reduced. The test can be done in five minutes by an operator with minimal training.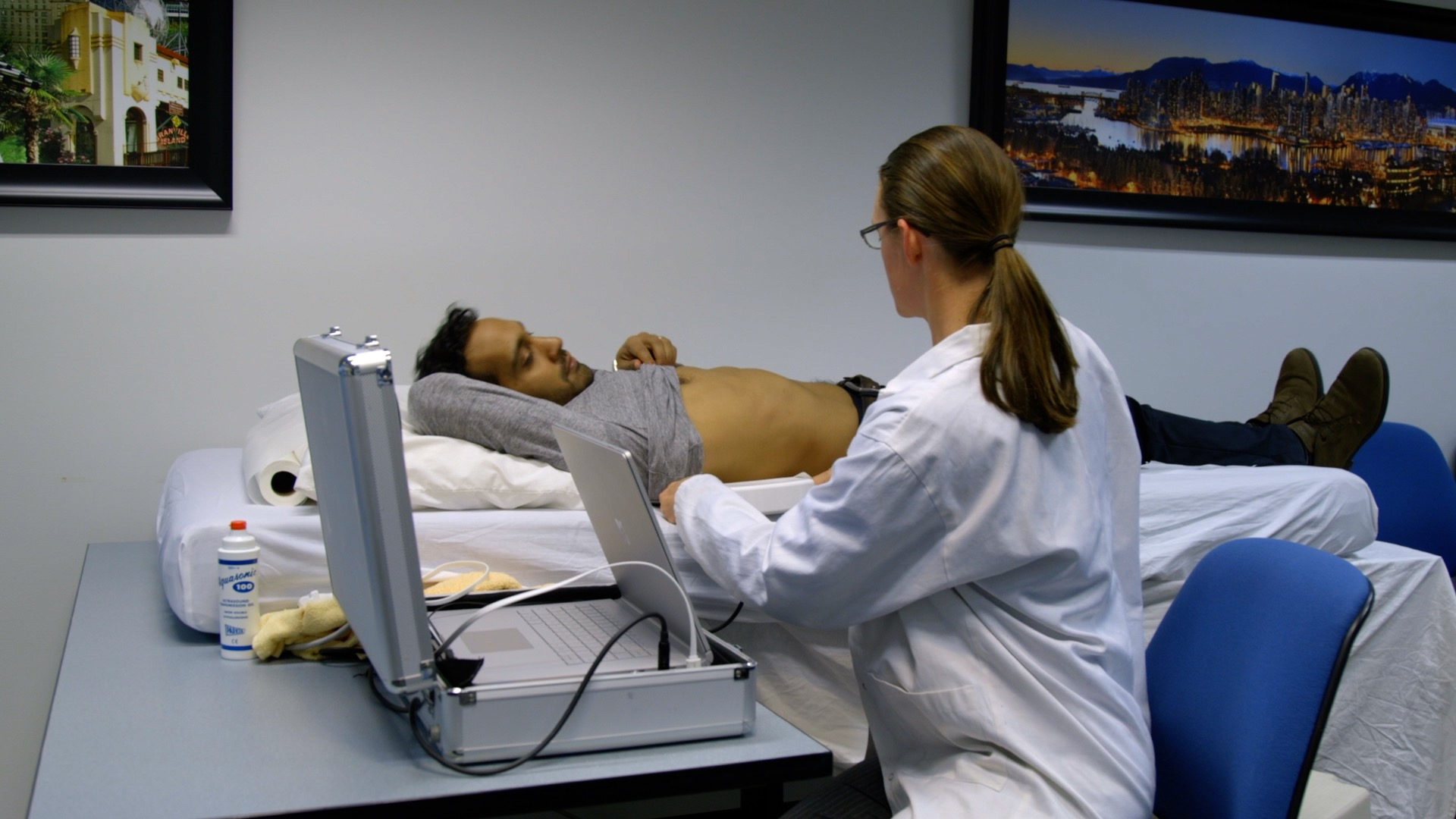 What's more, by providing a readable score of tissue damage, test results don't require skilled interpretation by specialists – allowing the tool to be used right at the family doctor's office.
"There are more than 100 million people at risk of fatty liver disease in North America. Everyone in the healthcare industry realizes they all should be scanned," says Robert Rohling, COO and UBC ECE and Mechanical Engineering Professor. "There's just no practical way to do that right now so we want to provide that way." 
Most importantly, earlier diagnosis will allow patients to access less severe treatments and disease management options that can prevent further damage and the ultimate need for a transplant.
"We can save lives, improve quality of outcomes and also reduce healthcare costs right now," says Sonic Incytes CEO George Aliphtiras.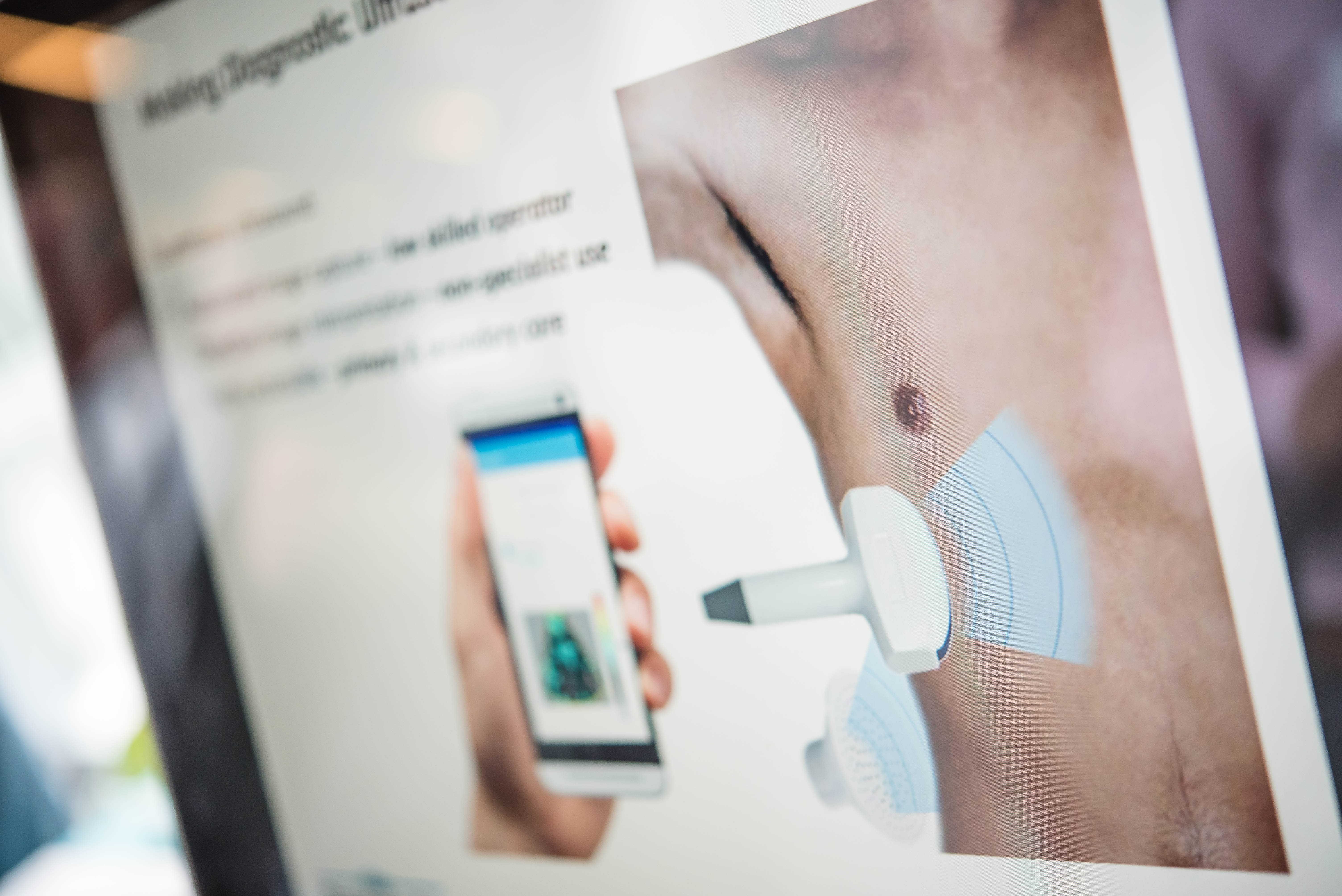 As a company, Sonic Incytes is relatively young but highly promising. The history and development of its S-WAVE technology, though, stretches far back into the previous decade.
"[The technology] has been about ten years in the making," says Aliphtiras, "but only now are we are in the process of commercializing it."
Co-founders and UBC researchers Salcudean and Rohling began to develop and work with UBC's University-Industry Liaison Office (UILO) to patent more than ten technologies involved in the device, as early as 2004.
Over the next twelve years, Salcudean, Rohling and their research teams worked tirelessly to build, test and refine these technologies at UBC, leveraging over $4 million in UBC research funding. The support from UBC's research ecosystem, from funding to infrastructure and other critical resources, allowed ideas in the minds of brilliant researchers to form into the potential for a powerful new technology.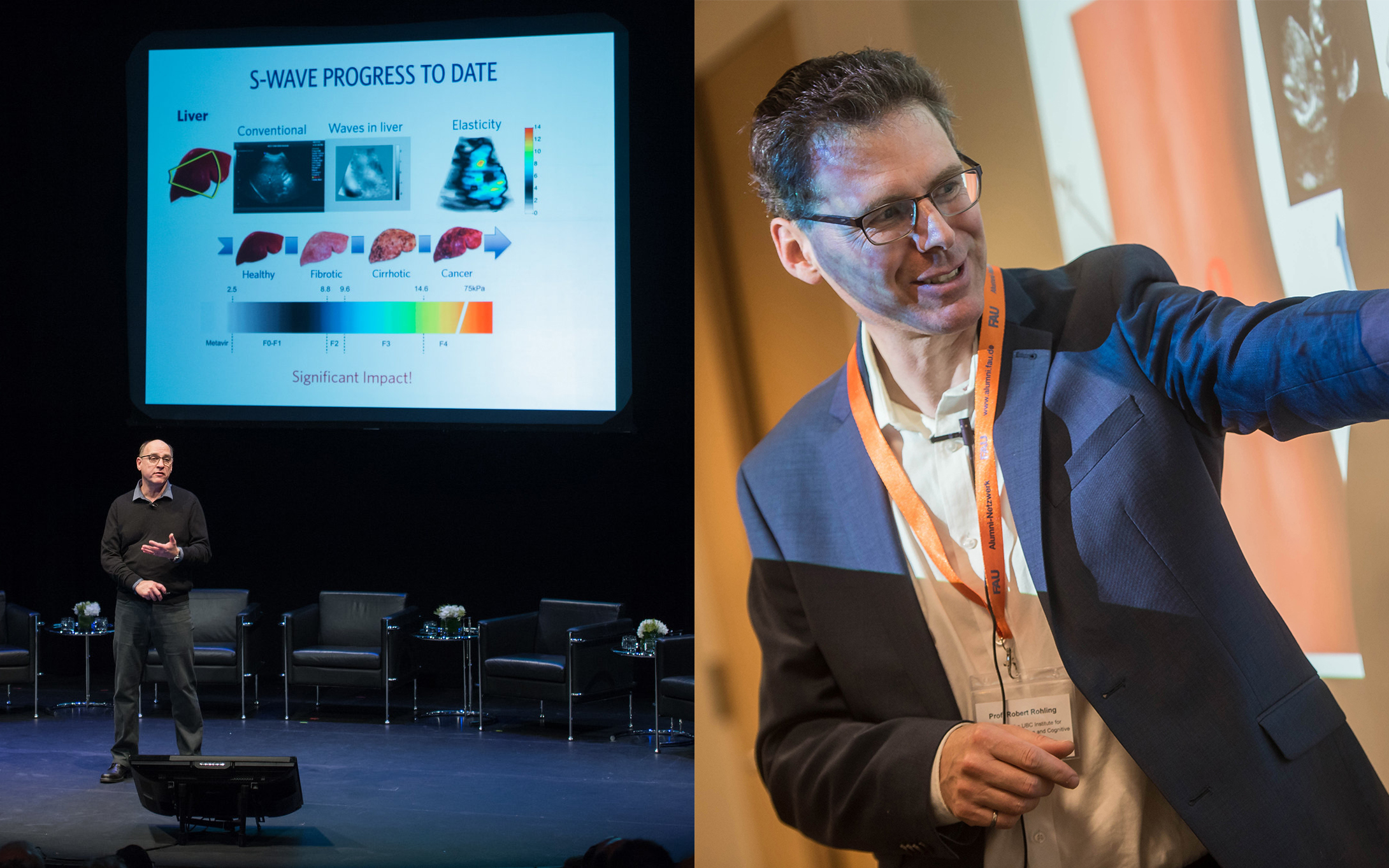 In 2016, Salcudean and Rohling worked with the UILO to license the S-WAVE technology and co-found Sonic Incytes as a way to realize this potential.
2016 also saw the company join entrepreneurship @ UBC through its HATCH accelator program for technology-based startup companies within the UBC ecosystem. At HATCH, Sonic Incytes was able to build and test new prototypes of their device, while benefiting from the expert advice of mentors and Entrepreneurs-in-Residence on the complex task of successfully bringing forth medical technologies to market. One of these experts was Aliphtiras, who then joined Sonic Incytes as CEO, bringing nearly 20 years of experience in medical devices and entrepreneurship.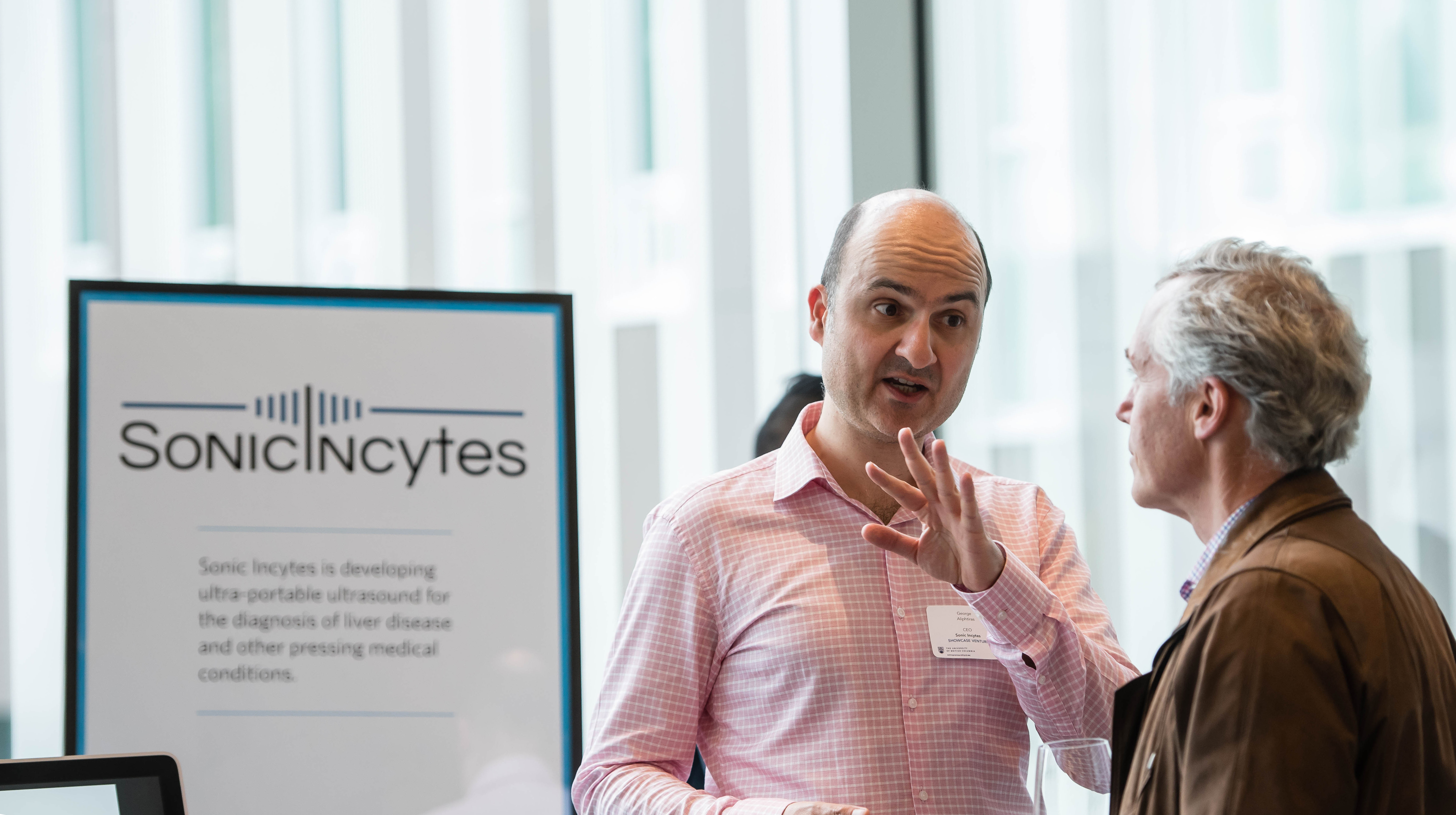 Hot on the heels of graduating from HATCH, in the fall of 2018, Sonic Incytes raised an impressive $1 million from investors during their first funding round.
Rob Rohling, COO: "There are more than 100 million people at risk of fatty liver disease in North America. Everyone in the healthcare industry realizes they all should be scanned. There's just no practical way to do that right now so we want to provide that way." 
Although it has been a long journey to get to this stage, the significance of the technology is undeniable. It also shown a strong potential for applications that go beyond diagnosing liver disease.
"The technology itself has been again validated for across various clinical segments, from prostate cancer, breast cancer [and] preeclampsia," says Aliphtiras. "Our vision is for Sonic Incytes and our technology solution to become a new vital sign for metabolic health." 
The success of Sonic Incytes demonstrates the powerful innovations that are possible when the ingenuity and entrepreneurial drive of UBC's talented minds meet with the strength of the university's research ecosystem. Together, these kinds of innovations can be brought to life - from an idea into the lab, then eventually from the lab into powerful treatments and products. In the case of Sonic Incytes, and many others, these innovations will save not only time and money, but human lives as well.